PROFESSIONAL HOME STAGING & DESIGN EXPERTS
We are highly experienced professional Home Staging and Design experts.
OUR MISSION: To create beautiful, functional spaces that look and feel right. We do this by incorporating the best practices of the home staging and design industry into every project. This, in turn, motivates our clients to enhance their property's assets to generate increased value, wider market appeal and ultimate saleability.
STYLESELLS INC. WINS GOLD!
STYLESELLS INC. gets GOLD for Interior Design in the annual CommunityVotes Kingston Campaign! Our clients are very happy clients. We are proud to serve Kingston and area. We would love the opportunity to talk to you about your next design job. Give us a call!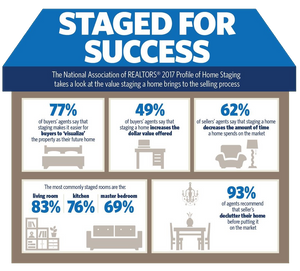 A 2017 report from the NAR (US based) on staging which is relevant to the Canadian Market. Seventy-seven percent of buyers' agents said staging a home made it easier for a buyer to visualize the property as a future home. Staging the living room for buyers was found to be most important, followed by staging the master bedroom, and staging the kitchen. Thirty-eight percent of sellers' agents said they stage all sellers' homes prior to listing them for sale. The most common rooms that are staged include the living room, kitchen, master bedroom, and the dining room.